Wine tasting and Vineyards near Bangalore- Weekend getaway
1)   Grover Zampa Vineyard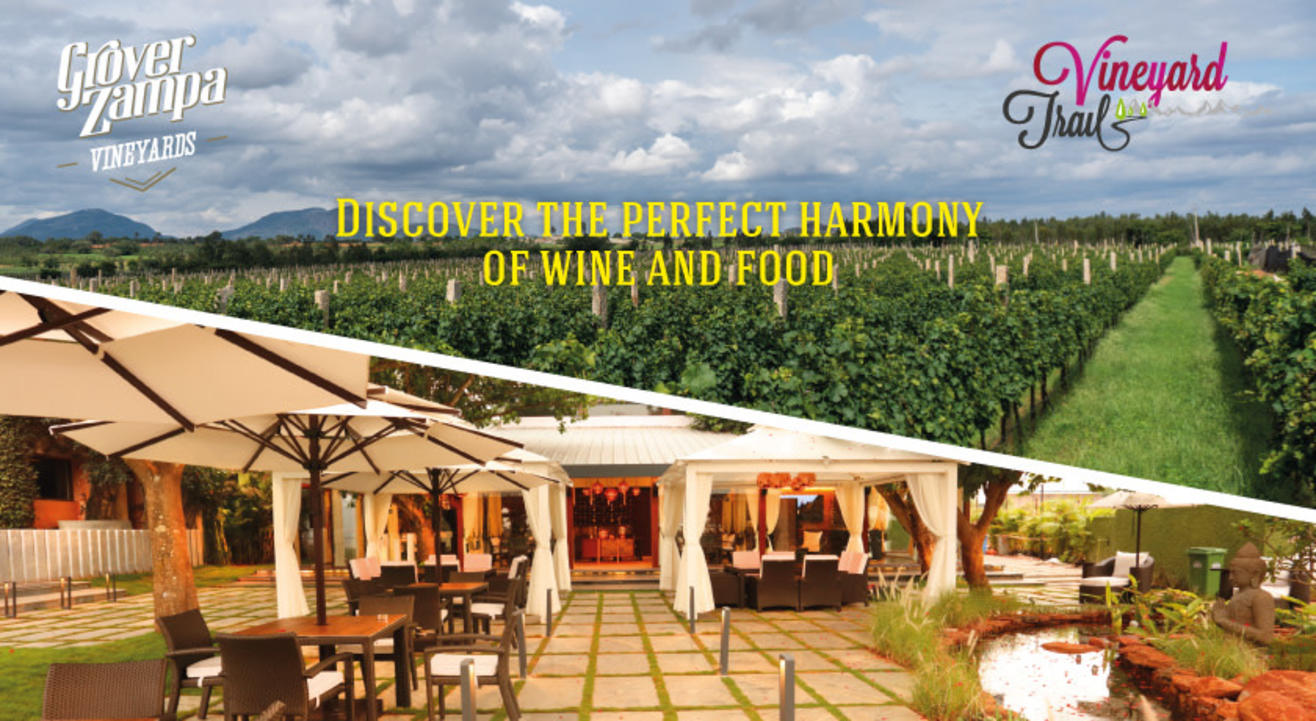 Location: 50km in Doddaballapur, Karnataka
Fastest route: Bellary Road or Doddaballapura road
Time to reach: 1h4min
In your Weekend plan a romantic date with bae. Plan a trip to the vineyard and taste the drops of nature.
At the foothill of Nandi hills, you can plan a long drive to this place and make your someone special happy.  Grover Zampa is 410 acres of vineyard will surprise you with the knowledge that you can gain here.
Many tours are also there for your visit to vineyard. Take a package tour to this place for your weekend.
If you don't know your taste in wine then the tours will be better for you and your partner. From farming to labelling the bottle, everything is demo for tourists.
Grover Zampa is a very well-known vineyard with their special Champagne wines. It's worth your weekend and some special occasions.
2)   Kinvah Vineyard
Location: 26km North from Bangalore
Fastest route: Via Bellary road
Time to reach: 37min
Plan a whole day event here. Leave early from work and take a drive to the north. Not so far away this Vineyard is a one day trip on your weekend.
Close to Bangalore this vineyard provides tours to the whole process of wine from fragmentation of grapes till bottling and labelling.
Entry for you and your family starts from 11am and then you can spend a peaceful time here. From sunsets, walking in the greenery, panoramic views and tasty wine; a perfect weekend getaway from Bangalore.
A full weekend can be spent here with lunch and grape stomping which takes more than an hour and completes your day with an evening cool breeze.
3)   Sula Vineyard
Location: 69km southwest from Bangalore
Fastest route: Via Mysore road
Time to reach: 1h 42min
Swirl, sip and sniff. Learn how to taste the wine, take the most interesting session in your weekend.
North of Bangalore, this vineyard has fixed timing for visitors and also a bottle shop. Not just as a virtual memory but take a bottle as a souvenir and store it forever.
Sula vineyard also has a location in Maharashtra. This place close to your city Bangalore is tasty weekend getaway from Bangalore.
4)   Big Banyan Vineyard
Location: 34km south from Bangalore
Fastest route: Via Mysore road and Dodda Alada Mara Road
Time to reach: 1h
Do you know that there are lots of varieties of wines? Try white wine or red wine. Big Banyan Vineyard is situated on the outskirts of the city and is worth a visit to treat you with the loyalty of wine.
The vineyard is open to the public and has built varieties of wine and tasting rooms for the visitors.
In European countries, wine is a popular drink and along with it cheese is served. In this vineyard the same process is followed, with the richness of whine you can enjoy a piece of cheese and feel French.
Get your spirit lifted by the different types of wine and cheese. Take a long walk into the green fields to make the time count. A weekend with wine and cheese is a perfect combination.
5)   Kadu Vineyard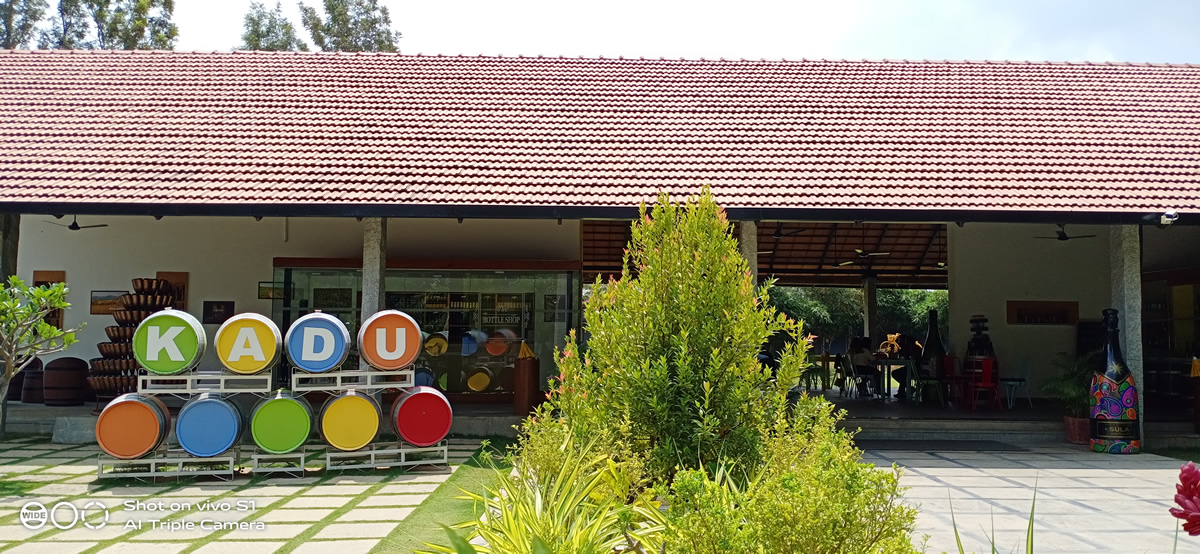 Location:  70km from Bangalore
Fastest route: Via Mysore road
Time to reach: 1h44min
Is wine too expensive? Some of you might ask that. But we have an affordable vineyard for you.
Visit Kadu Vineyard with someone special. Also known as Heritage Winery has tours for your perfect weekend.
Not so far from Bangalore, this place offers different types of wine, food and fruits.
The tour planned for you includes the theoretical explanation of the Kadu wine production. The process of wine and style of drinking the wine is explained in the tour.
Take a weekend getaway from Bangalore to the vineyards around and grow a new taste for wines.
6)  Bangalore Soma Vineyard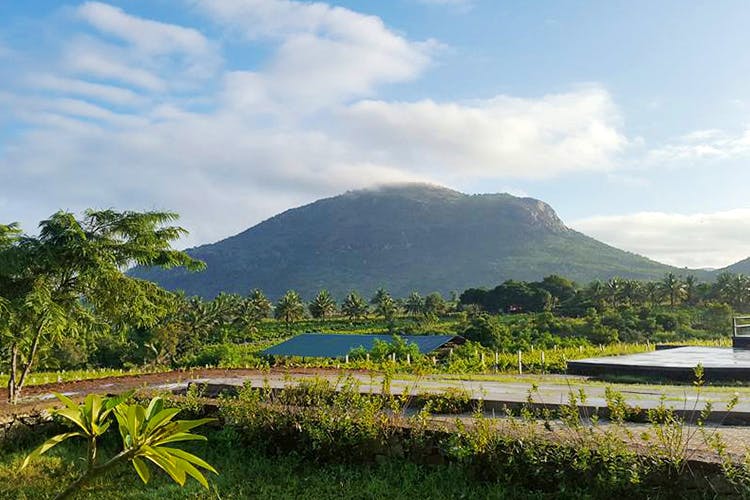 Location: 60km north of Bangalore
Fastest Route: via SH9
Time to reach: 1h33min
Enjoy three types of wine at three different locations. Drive to Soma vineyard this weekend and spend your whole day here with your family.
This vineyard has all the facilities for your weekend.
From beverages to food and of course wine, this place has an all day plan for you.
Welcoming you with the refreshments, then lunch and guiding to the whole process of wine. Fragmentation and harvesting of grapes for the finest wine will be included.
Area surrounded with hills will work as a magnet; it will not let you leave. Not at least before dinner time. Summon yourself up to the dinner table with a glass of wine and raise a toast. 
Summers might be a good time for you to visit the vineyard.
Top 5 Resorts near Bangalore
Shilhaandara Resort
  Location: 45km from Bangalore
  Fastest route: Via Mysore Road
  Time to reach: 1h 24min
When planning to trek at Ramnagar hill, book this fantastic resort for a happy weekend. Away from Bangalore this resort has lots to offer to make your weekend fun.
Indoors and outdoors activities make this resort a nice option for your family.
Start your morning around 9am and enjoy the stay till the sky changes the color. Packages are offered by the resorts for different weekend plans by tourists.
Ever tried Rain dance? Very rare, this resort has arrangements like no other resorts away from Bangalore. Enjoy rain dancing with DJ for your family and friends weekend.
Location: 32km south from bangalore
Fastest route: Via NICE Bangalore Mysore Expressway
Time to reach: 56 min
This resort is the first underground resort near Bangalore. Looks interesting, this resort has all the amenities required.
Fun activities like tunnel trekking, cycling, outdoor games etc makes this place exciting. On weekdays also pay a visit for the refreshment.
Enjoy bike rides, swimming pools, water fall, send your kids to kid's areas and many more.
Resorts around Bangalore offer lots of activities that you can enjoy with your family and friends.
Rd Nature Retreat Bangalore
Location: 33km, taluk  Bangalore
Fastest route: via Bannerghatta main road
Time to reach: 1h13min
Planning a trip in monsoon? Add this resort in your itinerary. This resort is a nature retreat for you. Enjoy your weekend near a falls and spend your night in Rd Nature Retreat resort.
A weekend getaway from Bangalore has to include the resorts with nature around.
Humming bees, chirping birds, cool natural air, and beautiful scenery, this resort is going to be a good option for family and friends. 
Book now for more details and fun time with your loved ones.
Location: 46km, harohalli Bangalore
Fastest route: via Mysore road
Time to reach: 1h13min
Name Vana means forest in hindi. Totally describing the location and simplicity of the place.
Taking a break from city life, take a drive and find yourself in this simple and beautiful resort.
Enjoy your weekend here with the outdoor activities like volleyball, cricket, badminton and many more.
Or spent time indoors with chess, pool, darts and others.
Spend your evening walking in the natural beauty. Relax in the swimming pool and feel rejuvenated.
You can also board public transportation to reach this resort.
Book a package and plan your stay here.
Location: 37km from Bangalore
Fastest route: via kanakapura road
Time to reach: 1h1min
An idealistic place on kanakapura road bangalore. Elim resort is a totally family place.But not just family, it is also popular between business get togethers, picnics or any festivities.
Facilities for your whole family, this resort can fulfill your relaxation. Kids play room, swimming pool and landscape gardens.
Not so far from bangalore, this place has activities for all age groups. Book for your weekend getaway from Bangalor