WEEKEND GETAWAY FROM BANGALORE​
Are you tired of envying people traveling to exotic places every season?
Here we have a perfect weekend plan for you. Everyone deserves a break from their busy life in the city of Bangalore.
A weekend getaway with a mixture of natural beauty, historical wonders, and heart-pumping activities has a lot to offer. The state of Karnataka has played a great deal in the country's tourism and has lots of places just a ride away from the capital city Bangalore.
The people of Bangalore are surrounded by superb locations that prove to be the perfect weekend getaway. Most of you must've been tired of a fixed scheduled life; let take a break and explore the surroundings.
Let's pack the bags and hit the road. Don't worry if you run out of diesel you can take a bus for every location.
Travelling to nature within 100 km: Top 10
1)   Nandi hills
Located: 61km away from Bangalore
Fastest route: NH-44
Time to reach: 1h31min
Are you into sunrises? If yes, then this place is for you. Feels like heaven this place is famous for the sunrise as it is located 1,478 meter above sea level.
Do you know that the place is also known as "Tipu Sultan's summer paradise"?
Turns out this place can make your summer mornings wonderful. And not just summer visit any time in the year this place can make your weekend special with the activities nearby for you, activities like cycling, trekking or natural walk.
Within just 100km you can reach a beautiful place that can be on the top list of your weekend plans.
Best time to visit is from September to May.
2)   Ramanagar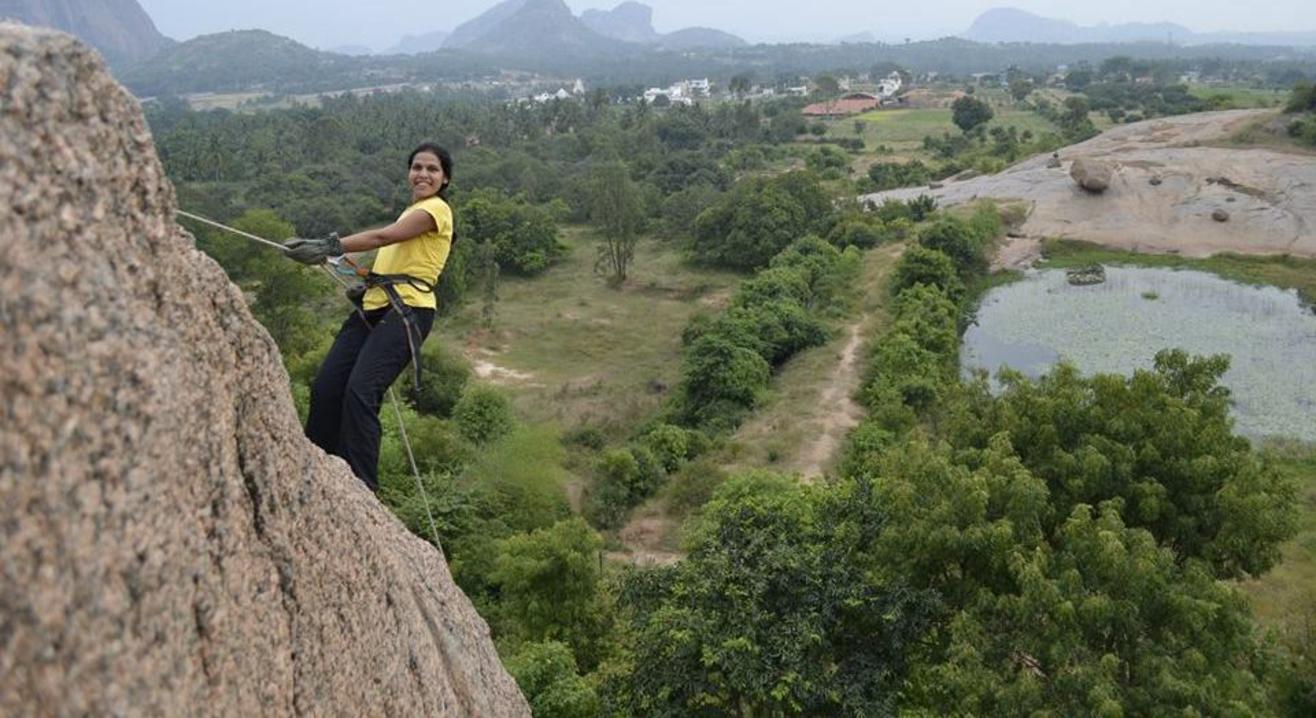 Location: 47 km from Bangalore
Fastest route: NH48
Time to reach: 9h9min
All-time favourite movie Sholay has the famous scene shot here many years ago.
For the adventure seeker, Ramanagar has plenty of things to explore and to do. Camping, trekking around the rocky hills makes this place popular.
Ramanagar has the best bio diversity. Home to a variety of birds, very special endangered long billed vultures.
The popular hill is called Ramadevarabetta also has the vulture sanctuary. You can also find guidance through locals, making it the best weekend getaway from Bangalore.
Plan your visit between March to June.
3)   Makalidurga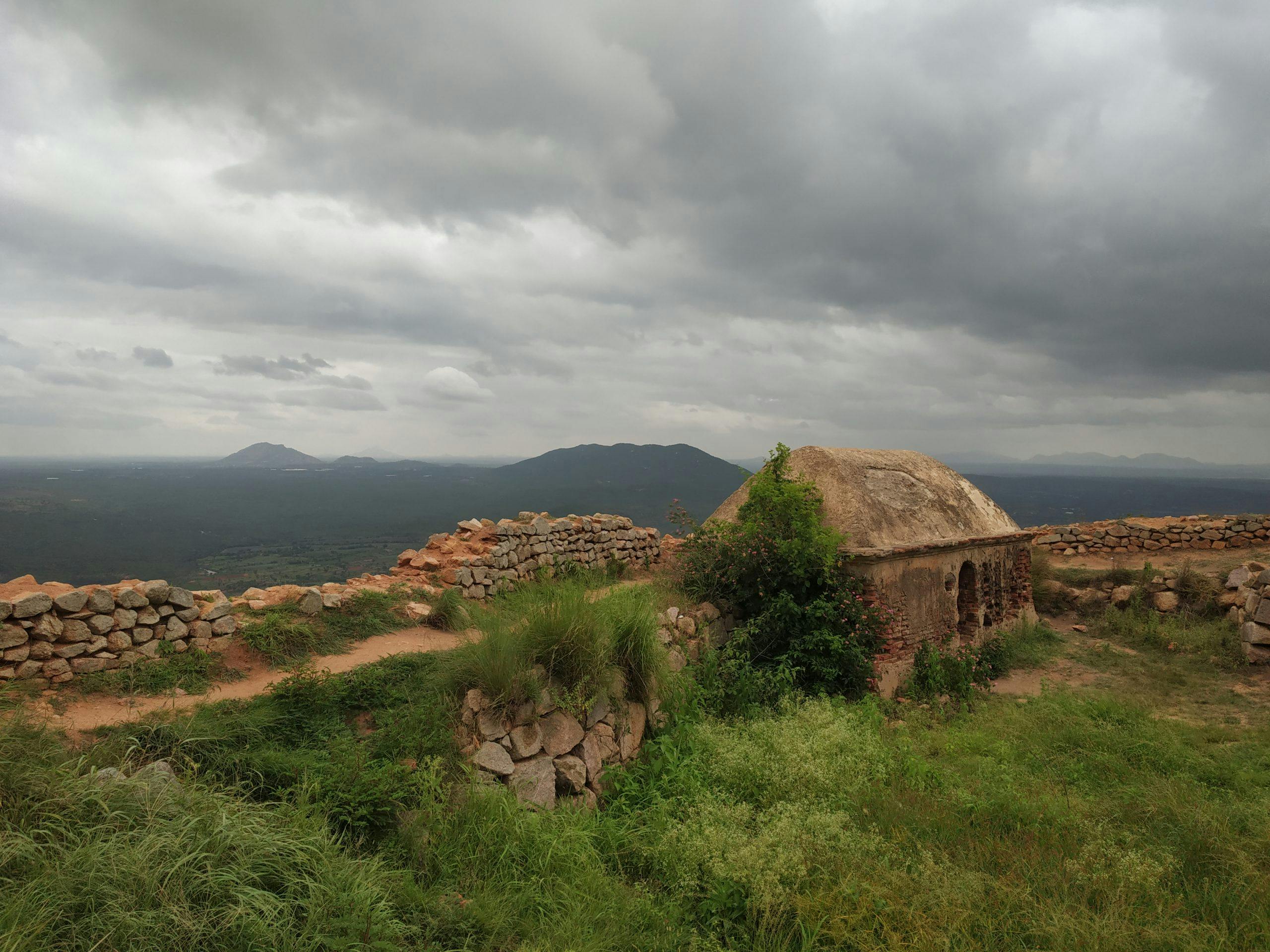 Location: 57km from Bangalore
Fastest route: SH9
Time to reach: 1h22min
Involves a tough trekking and is quite an amazing place to visit.
It is a small symbol of the ancient Vijayanagara architecture.
A small village on the top of the hill gives a view for the eyes that stores itself forever.
The way through the main area is through hard rock climbing.
The Makalidurga fort and Shiva temple are the basic attractions.
For better experience, plan your weekend in winters.
4)   Savandurga hills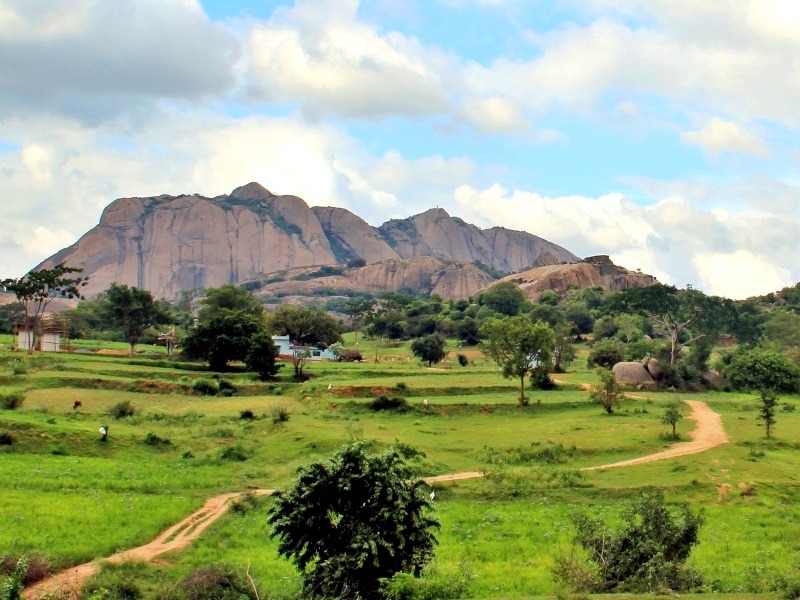 Location: 49km from Bangalore
Fastest route: via Mysore road
Time to reach: 1h32min
Interested in rocks and geology? If yes then this should be on top in your weekend getaway from Bangalore list.
These hills will blow your mind away with the natural resources they have in the form of rocks.
Another fun fact is that these hills are one of the biggest single rock hills in Asia.
And not just the resource rocks they are home to some temples as well, temples of Savandi Veerabhadreshwara Swamy and Narasimha Swamy.
Along with the rocks and temples these hills are beautifully green, Surrounded with tall trees and bamboo, water reservoirs and dams.
Best time to visit is during summer, your weekend will be cherished by trekking on these hills.
5)   Kanakapura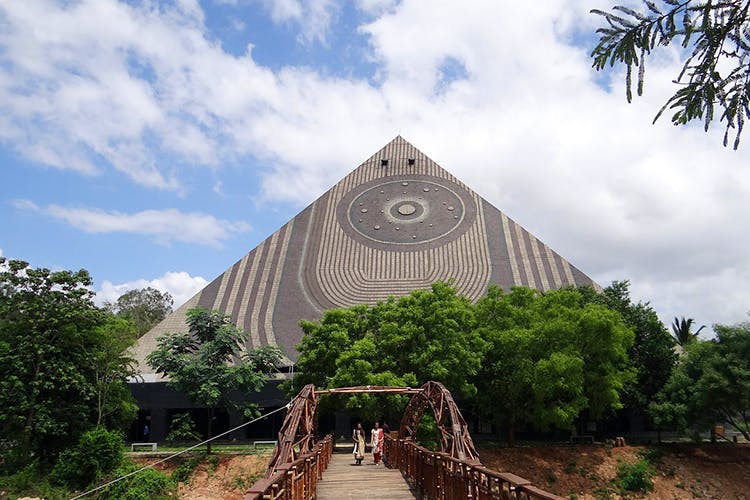 Location: 50km from Bangalore
Fastest route: via Kanakapura road or via Mysore road
Time to reach: 1h40min
Also known as a camping destination is very famous for the popularity of the mountains and wildlife.
A camp near the lake of Hosadoddi is a perfect spot to relax and enjoy the weekend. Camping, trekking and enjoying water sports give a thumbs up to kanakapura.
Bird watching has been an interesting activity during monsoon when nature is refreshing. It's a small town in Ramanagara district famous for silk and granite which makes it a family destination.
This beautiful place will make u stay there forever and never make you leave.
Away from the hubbub of Bangalore city life this place is a weekend escape from the heat and everyday rush.
To escape the heat, the best time is in the monsoon season.
6)   Bannerghatta National Park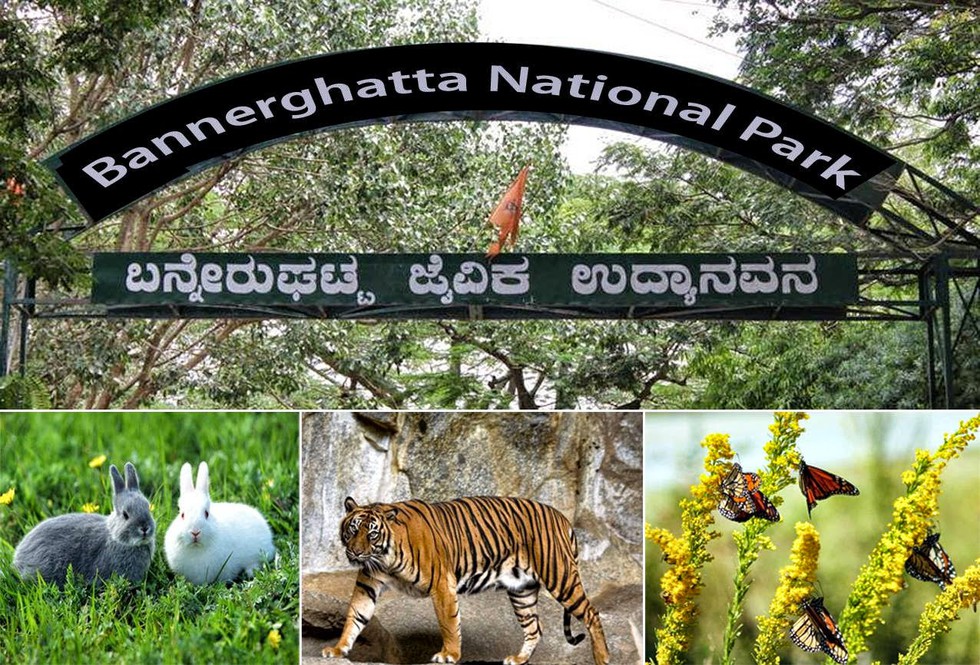 Location: 22km south of Bangalore
Fastest route: via Bannerghatta road
Time to reach: 54min
This place so close to the city like Bangalore has been the house of six rural villages and diverse wildlife.
This park is very well maintained into a zoo, pet corner, an animal rescue centre, a butterfly enclosure, an aquarium, a snake house and safari park.
This park is located on a hill which gives a breathtaking view of a deciduous forest. This forest is home to one hundred one bird species, along with the variety of fauna and flora. Also the rare white tigers will also pay a visit if you are lucky.
Some known floras are sandalwood, Neem, bamboo, tamarind and so on. Faunas include elephants, wild boar, jackal, leopard, royal Bengal tiger, fox, sloth bear and many more.
National park this beautiful and eye caching is the top visited place for nature lovers on weekends.
A safari service is provided by the park which gives the view of each section separately and also buses for the mass of tourists.
You can visit anytime of the year, just within 100km this weekend getaway from Bangalore will amaze you in all the ways.
7)   Muthyala Maduvu falls 
Location: 5km from Anekal and 40km from Bangalore
Fastest route: Via Hosur road
Time to reach: 1h16min
The view of this fall is refreshing. These falls are also known as Pearl Valley.
Nearby forest gives the trekkers a happy vibe and Shiva temple near the falls then gives positive vibes to the tourist.
A picnic spot for family weekenders, this place is rich for birds around the fall. Splash the clean water of these falls and feel refreshed way more, even till you reach back to Bangalore.
Surprise your family with a picnic here. Best time will be between August and November.
8)   Chunchi Falls
Location: 63km
Fastest route: via Kanakapura road or via Mysore road
Time to reach: 2h26min
Chunchi falls located between a rocky valley and meeting point of three rivers. 360 covered with the valley these falls are majestic for views that are amazing.
On weekends when you need to escape from the city and your planned life take a trip with your travel partners and trek through the deepest secrets of the valley.
Swimming and trekking (at night) are prohibited so be careful. Because of the falls some accidents were witnessed. It's important to be a cautious trekker.
The Arkavati is a very important river; this is the river which forms chunchi and also tributary of the river Kaveri.
Best time is between the end of monsoon and beginning of winter.
9)   Skandagiri hills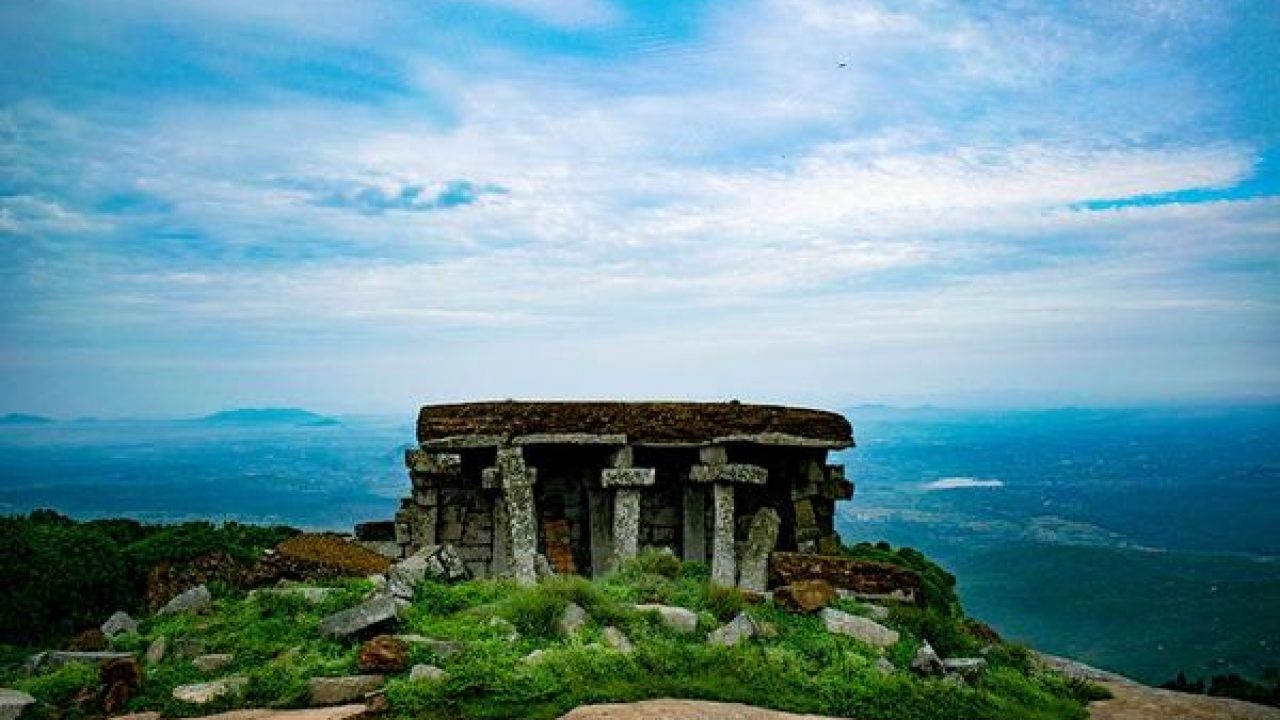 Location: 62km away from Bangalore city
Fastest route: NH44 or via Bellary road
Time to reach: 1h27min
Do you want to trek at night? But couldn't because it is mostly prohibited.
Not in this weekend gateway. Skandagiri gives you to adore the night sky while you trek.
Altitude of about 1450 metre, through this hill you can overlook the Nandi hills and Muddenahalli. Surrounded by a small village, this weekend's goals are off road.
This place is not worth a single hour of sleep. Pack your bags, set a bonfire and enjoy the star light during trekking.
With some precautions trek can become a perfect weekend getaway from Bangalore.
10) Turahalli forest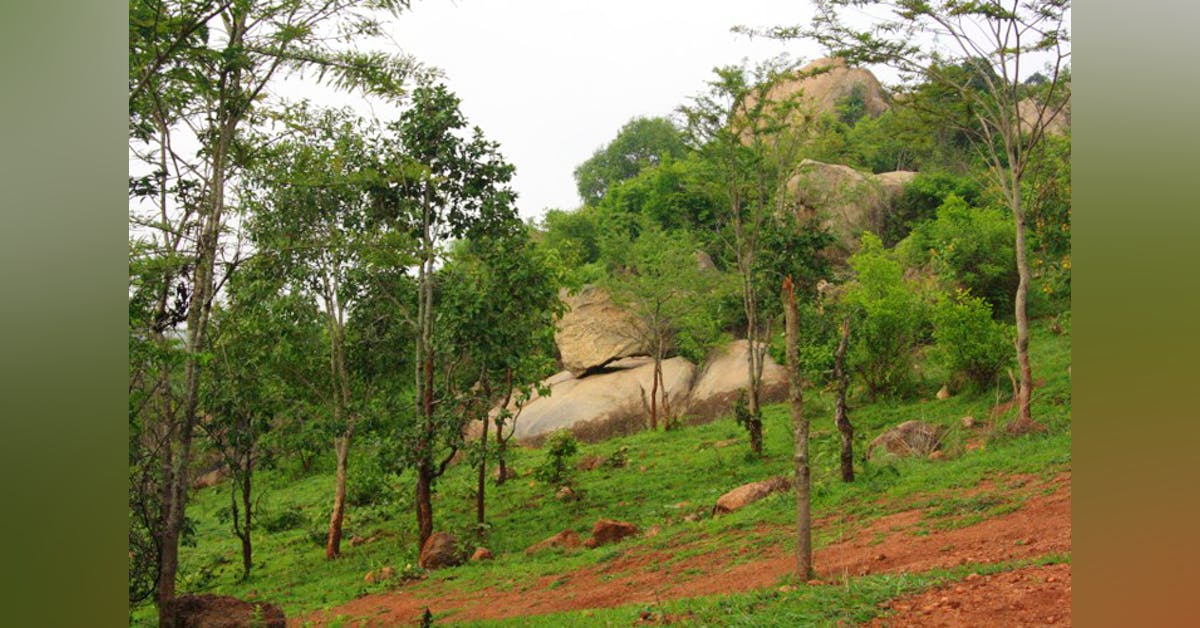 Location: 20km south of Bangalore city
Fastest route: NICE Bangalore Mysore Expressway
Time to reach: 34min
How long has the bicycle been untouched?
If you really miss cycling and some alone time then this forest must be on your list of weekend getaways from Bangalore.
If you have some friends out of contact for some time now it's time to gather them and let's go cycling together.
Climbing can be a good idea too. On the way to the hill top you can witness some of the most beautiful bird's species.
Climbing on the top will make it worth it as you can see the busy city from a different angle.
And do visit the temple located in the forest for some breath and enjoy the place with your family and friends.
Best time to plan this trip outside Bangalore should be between November to January.
Top 10 travelling to nature for a long weekend: 200km and above
11) Kunti Betta
Location: 125km in Pandavapura of Madhya district.
Fastest route: via Mysore road
Time to reach: 2h49min
Kunti betta is another location for night trek; this place is covered with mythological stories.
This place has the story of Kunti the mother of five Pandavas staying at this place and also has a pond named Kunti Kund.
Book a trip with your friends for some weekend fun. Along with safety, planned tours with guides will be advised for travelers.
Under twinkling stars night treks are mostly voted by the tourist.
The hill top view will leave you as a trekker forever. The love for the hills will only grow.
Best time to visit is in the winter that is September to February.
12)  Horsley hills
Location: 157km
Fastest route: NH44
Time to reach: 3h 50min
Book a cab and visit these hills on your weekend. These hills have more to offer than just the picturesque view.
Along with the winds going into your hair, visit the environmental park, museum or go for zorbing and rappelling.
Take the fastest route on the highway and you will reach the hill within a 3 to 4 hour drive. The hilly and green environment will lift your spirit and your drive.
13) Shivanasamudra Fall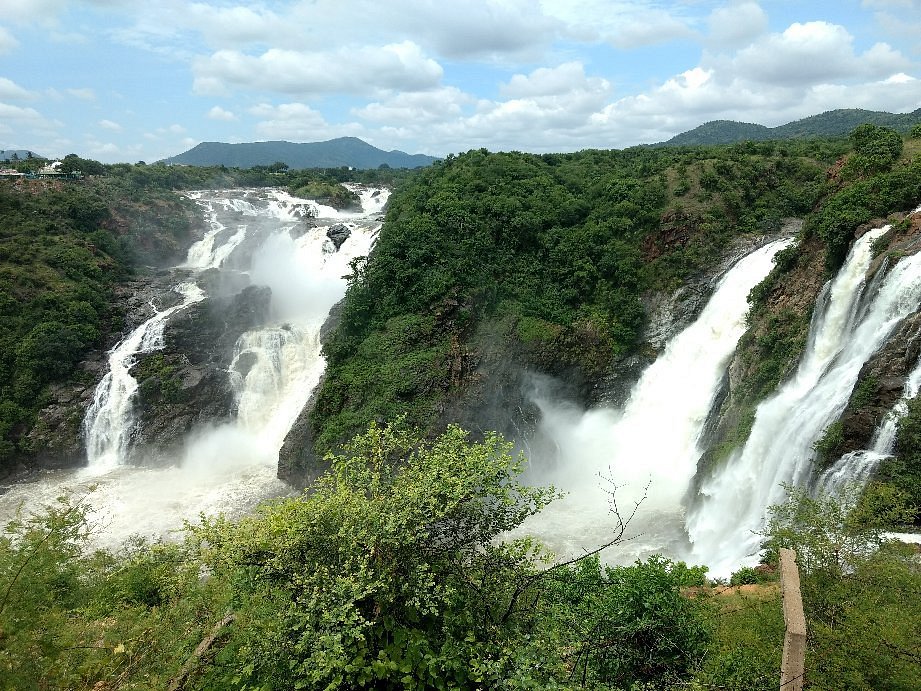 Location: 130 km
Fastest route: Mysore road
Time to reach: 3h
Enjoy the monsoon at the top 45 waterfalls of the world at Karnataka. Along with the water splash of the fall you can also pay your visit to the Sri ranganathaswamy temple.
This temple will show the example of Dravidian architecture and is maintained by the Karnataka government.
Apart from this there are two more temples less than 1km away. Pay a visit with family and rejoice in nature's bliss.
The falls are the distributaries of river Kaveri and are broken into two by the cliff. The attempt to climb the cliff has led to an accident, it is advisable to not perform stunts and enjoy the beauty from safe ground.
The best time will be the winter season as hills even look more promising in the cool environment.
14)  Hogenakkal falls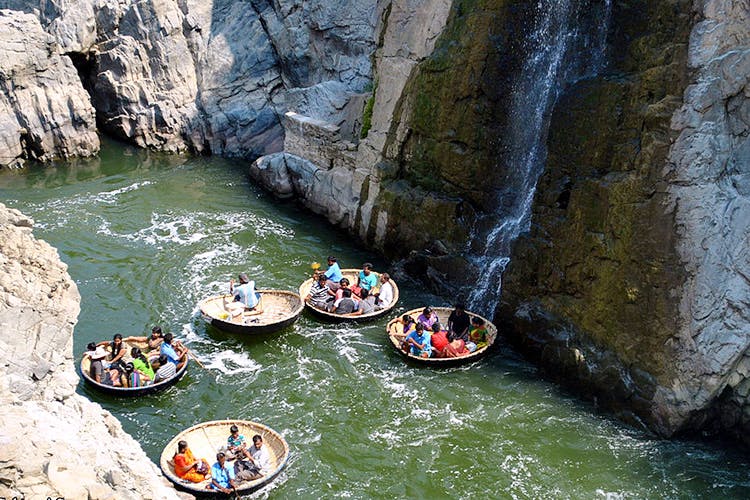 Location: 127 km south from Bangalore
Fastest route: NH44 or NH48
Time to reach: 3h11min
 If you could not afford to visit Niagara Falls in the US, visit the Niagara Falls of India. The snow white water of this fall will make your day.
 Adventure sports enthusiasts enjoy boating and other activities in the fall. It's a one day tour from Bangalore. Pre monsoon and post monsoon are   advisable for the travellers. The falls have a fresh and adoring environment for you and your travel partners.
Best time to visit is from October to February for better treatments by nature.
15) Biligiriranga Hills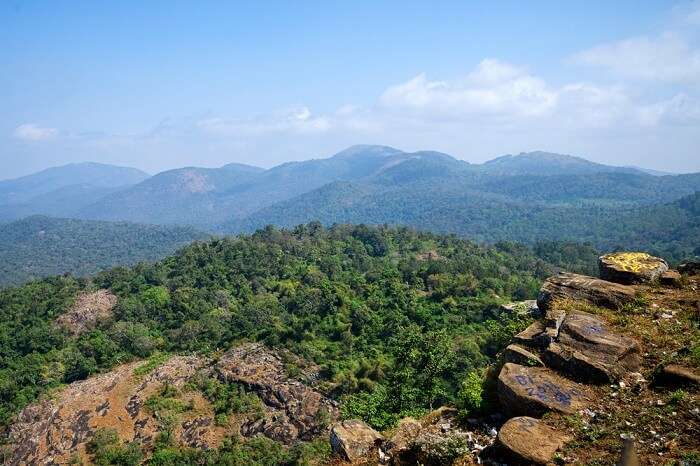 Location: 170km
Fastest route: Mysore road
Time to reach: 4h17min
 Between Eastern and Western Ghats these hills are extraordinary for biogeography. Situated on Tamil Nadu borders these hills are protected under the Wildlife Protection Act of 1972.
The hills are a complete eco-system on both of the mountain ranges.
The wide range of climate has converted it into the possible survival of many heterogeneous habitats. Mostly all the forest vegetation types like deciduous, scrub, grassland and many more.
Also known as BR hills have the biggest population of Asian elephants and Asiatic lions in southern India.
Major attractions are the sanctuary, temple and safari ride. With a specific time limit the hills can be explored properly.
For the best experience plan a long weekend and enjoy every bit of it with your family and friends.
For the best experience plan your trip between October and May.
16) Yercaud
Location: 216km, situated in Tamil Nadu
Fastest route: NH44
Time to reach: 4h29min
Here's something for a long weekend, Yercaud. The hill station located in Eastern Ghats, has a reserve forest and a Servarayan temple at the highest point. A long weekend getaway from Bangalore to Tamil Nadu must include Yercaud.
Along with picturesque views, you can enjoy paddle boating on the lake and exploring the bear's cave.
With all kinds of transportation facilities, it is easy to visit Yercaud including boat house services.
Along with the water bodies there are eateries available at the streets for you, to enjoy the real taste of Tamil Nadu.
Pagoda Point is a tourist spot which provides the view that will sooth your eyes.
Rose garden is a family and honeymoon destination. Along with roses there are silk productions as well. For horticulture enthusiasts this garden is a must visit place.
Tipperary viewpoint is the south most point of Yercaud. The entire region is beautiful as it is the composition of two coloured rocks.
Lady's seat, located at the highest point. It is basically a rock shaped as a seat, formed during the British rule for the women and was their favourite place. The most breathtaking sunsets can be witnessed here and this spot is the main reason for the travellers to visit Yercaud. On top of your weekend getaway from Bangalore list this hill station has lots of natural beauty stores for you.
For a long weekend plan your trip in the best season between October and June.
17)  Coorg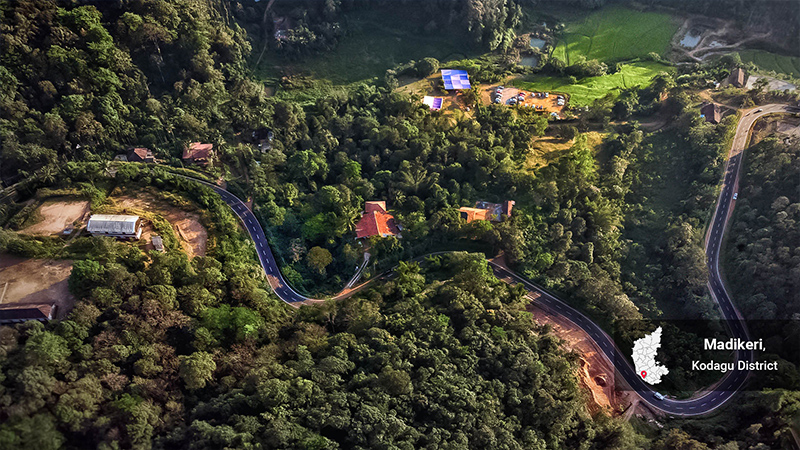 Location: 250 km south west from Bangalore
Fastest route: NH75
Time to reach: 5h21min
Do you like coffee? If yes then this is going to be your favourite weekend destination. The smell of coffee is in itself a refresh.
Coorg is also known as Kodagu is famous for the lush green hills and highest monsoon of the nation.
It is basically a slope located on the east of Western Ghats. Apart from just natural beauty the locals of Kodagu are very friendly and are known for their martial arts skills.
Coorg is home to many wildlife and natural attractions. Apart from coffee it also amazes us with tea plantations and orange groves.
Activities like trekking can be done in Pushpagiri and Brahmagiri in Coorg. Some other tourist destinations near Coorg are Talakaveri, Bhagamandala, Nisargadhama, Abbey Falls, Dubare, Nagarhole National Park, Iruppu Falls, and the Tibetan Buddhist Golden Temple.
The most romantic time is between October and march. Plan a long weekend from Bangalore here.
18) Brahmagiri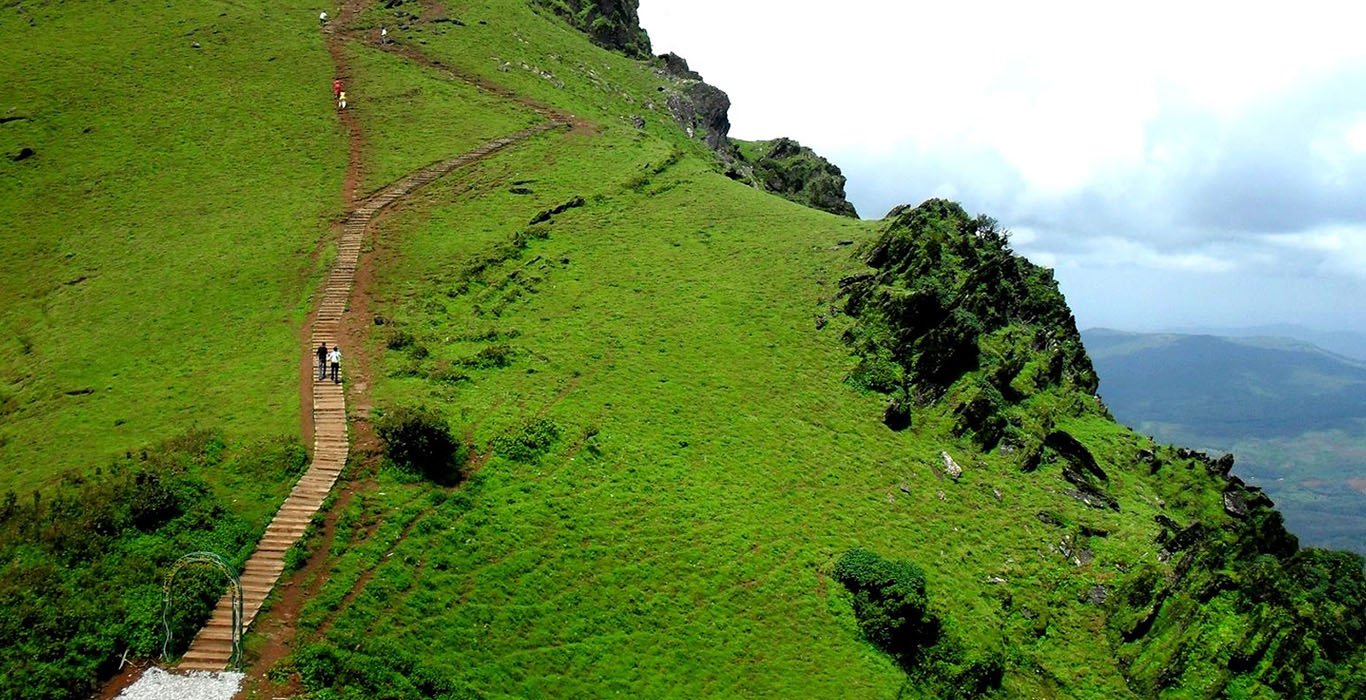 Location: 253km away from Bangalore in Western Ghats
Fastest route: Mysore road
Time to reach: 5h54min
Covered with dense forest and grassland Brahmagiri is yet another peak hill for your weekend getaways.
Basic spots for tourists is the temple dedicated to lord Vishnu, an ancient cave at Pakshipathalam which is a peak and Iruppu falls.
Thirunelli temple, which lies on the Kerala side is dedicated to lord Vishnu. This temple is known as the kasi of the south and believed that Lord Brahma built it himself.
Pakshipathalam again located near Kerala side, was used for Rishis in the ancient time.
Iruppu, has a mythological story attached with it, connecting back to the Ramayana times. Also known as Lakshmana Tirth, Iruppu is a part of river Kaveri which was turned into falls by lakshmana during their search of sita in Ramayana.
Best time to visit is between September to June.
19) Ooty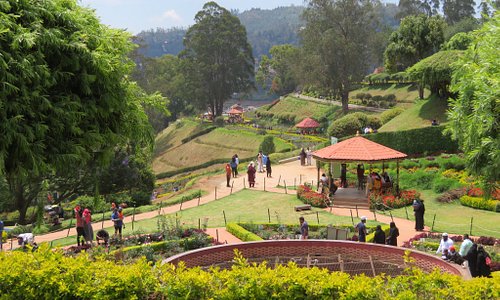 Location: 273 km in Nilgiris district of Tamil Nadu
Fastest route: Mysore road
Time to reach: 6h12min
   Ooty is one hill station which is on the list of every honeymoon or family person. This place does not need an introduction.
Queen of hills, is the name given by the locals to this place. For its beautiful mountain ranges, Ooty truly has no comparison. Combination of majestic bungalows of British era and beautiful gardens, it may turn out to be a little hectic but this hill station is worth your time and your energy.
Ooty has the simplicity of its own which is also reflected on the locals. The tea gardens, Nilgris hill and waterfalls make it heaven on earth.
Ooty is one of the hill stations established by British as their headquarters. Mini toy trains, church, tea museums, reservoirs, national parks and many more makes Ooty the top listed hill station for your weekend getaway from Bangalore.
Always popularise in the month of April to June and September to November.
20) Coonor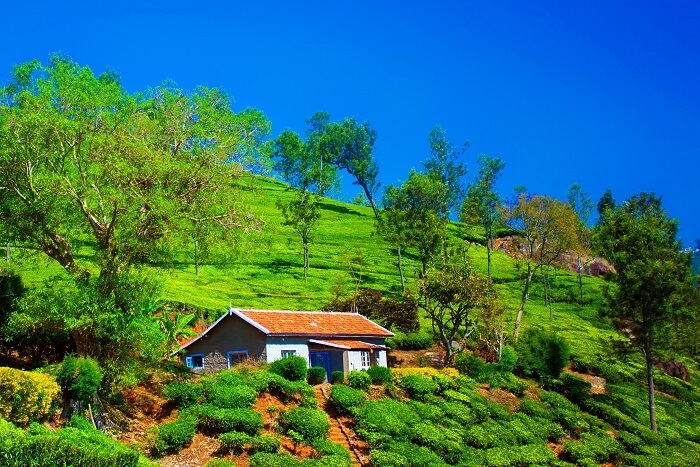 Location: 293km from Bangalore
Fastest Route: Via Mysore road
Time to reach: 6h42min
If landing in Ooty do visit Coonoor. Just 20km from ooty this hill station has lots to offer to make your weekend perfect.
It is one of the three Nilgiri hill stations- Ooty, Kotagiri and Coonor.
Not so different from ooty, connor also offers toy trains, trekking, natural parks and falls, tea plantations and bakery.
A picture perfect location makes it an attractive destination for honeymooners and also family trips.
A weekend getaway from Bangalore in both ooty and coonoor is perfect for some relaxation and lots to do but plan a long weekend to cover it all.
Trek and hike to the gorgeous places in this hill station. Places like Law's fall, Sim's Park, Hidden Valley, Katary Waterfall and many more.
Local bakery has to be on your list when planning a weekend trip to coonor. It will be one of the unique and delicious things to do.
Enjoy the best of Coonoor in the months of October to march